Matija, you've got the 154th derby game against BVB on Saturday. What does the game mean to you personally?
When I signed for Schalke in January 2015, I came to realise very quickly the significance of the derby. For the fans, the club, the players and the city, it's definitely one of the most if not the most important game of the year. I can hardly wait until the game kicks off.
Do you prepare differently than for a "normal" game?
We really prepare for every game, our concentration levels are always high. But it's always something different with a derby. You feel a tinge of excitement all week. The people I have around me also talk to me about the derby. No matter where I am, people wish me luck for the game with them.
BVB are having a strong season…
… and you have to admit that. Our opponents have the chance to become champions this season. It's a tight battle with FC Bayern that will probably go to the last day. We'll see who gets their noses in front at the last moment.
No matter where I am, people wish me luck for the game with BVB.
You're not up there in the table this season after finishing second last year. Does that play a role as you mentally prepare for the derby?
No! Where you are in the table isn't important in a derby. In special games like this, things can happen that no one predicts. Your attitude, motivation, skill and how together you are as a team is what it's about. We're maybe not the favourites, but I believe in us. You should never lose your belief. The derby last season showed that.
You came on at half time with the team 4-0 down. Did you believe that you could come back and be celebrating at the final whistle?
At half time we had to accept it. Everything was against us in the first 45 minutes. Four goals, and people were very unhappy. The feeling was anything but good. But we pulled ourselves together in the dressing room and decided that we at least wanted to win the second half. I was hoping that we'd be able to get a point out of the game, but it seemed anything but realistic based on the game. Above all, the derby showed that you shouldn't lose your belief in yourself, even in difficult situations. Everything went outstandingly for us in the second 45 minutes. It was just unbelievable. Even though we only got a point with the 4-4, it felt like a win!
What was going through your head when Naldo headed in the equaliser in extra time?
I'll never forget that moment for my whole life. It's really not easy to put my thoughts into words or describe the feeling. It was a goal of pure will. After we made it 4-3, I knew that we'd get one opportunity that we'd take. The celebrations were huge when the ball went in the net. For me, it was the culmination of an amazing afternoon as I'd been out injured for a few weeks previously. Then I was back. The game gave me extra strength for the rest of the season.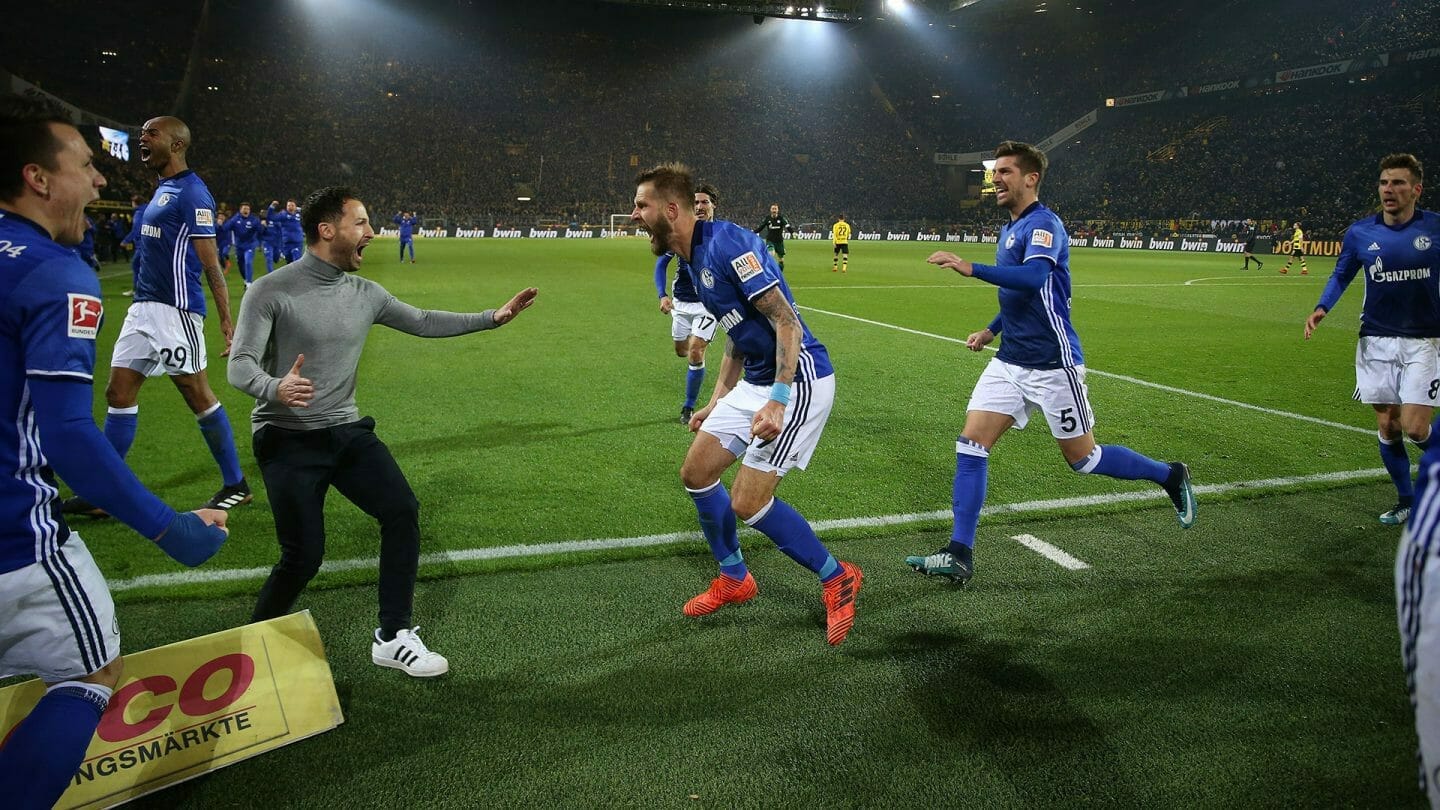 Have you ever experience a game as crazy as that derby in your career?
No. And I don't think that the 94th minute equaliser will be beaten. I can't remember watching any games as crazy either. The story, the emotions, it will stay forever. It can't be taken from us for our whole lives.
You also have some positive memories of derby games in England. You played against Manchester United three times with Manchester City…
… and won two of those games! I was very young at the time and was playing with a lot of star names in the team. The opponents also had a lot of big players in their ranks. I matured a lot as a player in these games.
And what do you specifically remember?
We won 4-1 at home. The 2-1 win at Old Trafford was even more intense. We gave our fans a massive gift with that.
The story, the emotions, that stays forever.
What's the biggest derby back home in Serbia?
The game between Partizan Belgrade and Red Star Belgrade. Unfortunately I wasn't able to play in it myself because I left to join Fiorentina when I was 18. I always followed the games with a lot of excitement when I was a kid and a teenager.
Which of the two clubs did you have your fingers crossed for?
Obviously Partizan, because I played for their youth team. There's always a lot of hype for the games and both stadiums are always sold out. Like in other countries, it's a derby between neighbours so it's the first topic of conversation between people in the city. In my eyes, it's one of the most meaningful games in the world.
What's the biggest derby in the world in your opinion?
I can't and don't want to answer that. Every derby is something quite special. Schalke against BVB is definitely the biggest derby in Germany, because the cities are only a few miles away from each other and the people in the Ruhr love football like nothing else. So we have to get ourselves ready and fight for every inch on the pitch.