Jonas, against FC Twente you were absent from the squad. What was the reason?
In the friendly against Norwich there was a coming together between me and another player when we both went for a header. The result was a small concussion meaning I unfortunately had to take a small break.
Is everything okay now?
Yeah, I can train without any issues now and I feel good. Our doctor told me that I can get back to it. That was lucky, as I would have been very annoyed if I had missed the first training camp.
For you it's the first pre-season as a professional footballer. You signed the contract back in May, was that a dream come true for you?
Definitely. I think almost every little boy dreams of becoming a professional footballer and to play in the biggest stadiums in Germany. I'm very thankful that the executives at Schalke trust me and want me to be part of the team.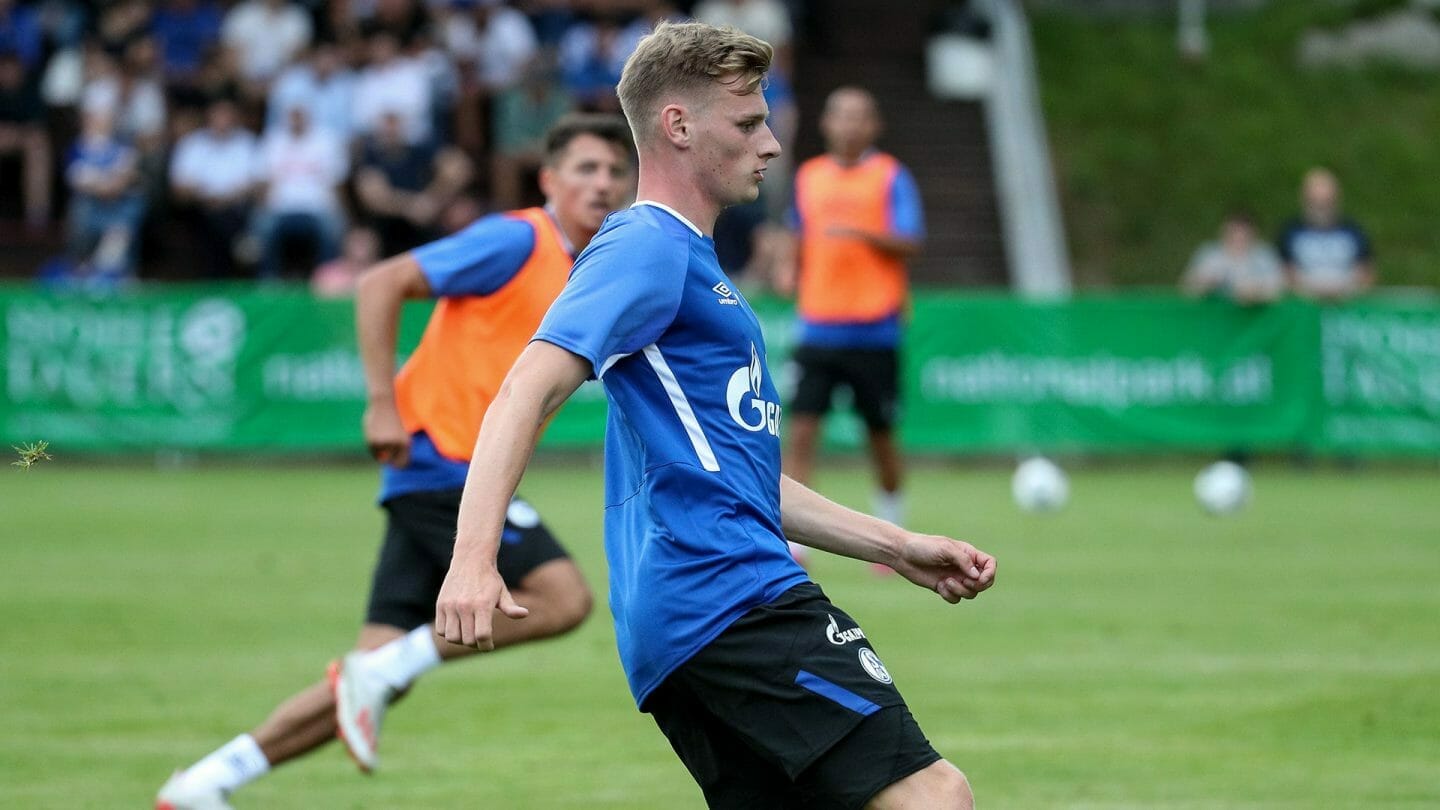 Have you already settled into the team?
At the start it was obviously a big jump. In the U23s we worked at a very high level but with the pros it's something else. However, I've really settled now and am ready for the chance I get during pre-season.
You already celebrated your Bundesliga debut. What did you do with the shirt that you wore for your first game in April against Hoffenheim?
I took it with me and gave it to my parents. It's up in their house with some other kits from my youth. My parents are very proud that they now have a Bundesliga kit up on the wall.
What are your tattoos about?
I have the birthdays of my parents and grandparents as well as my brother's. They're all integrated into a compass. This shows me the way and helps me remember where I come from. My family play a really big role in my life.
You moved from Nürnberg's to Schalke's U23s two years ago. Was it an aim for you to put in good performances to help you get into the senior team?
Of course I had that small hope that I would be able to show myself during the international break or if a player got injured. Above all else, it was my aim to put in good performances for the U23s and offer my abilities there. The fact that my wish has now become a reality is something that makes me very happy.
I took the kit from my first Bundesliga game home with me and gave it to my parents.
How did you use your time with the U23s?
In the last two years I've developed a lot. In the second season I took on a leadership role and was entrusted with a lot from the coaching staff. I'm very proud that after a tough first half of the season, we managed to get promoted into the Regionalliga after getting second place.
Were you always a left-back?
As a youngster I played in attack. After my switch to Bayer Leverkusen when I was nine, I played mainly as a left-back. That position suits me.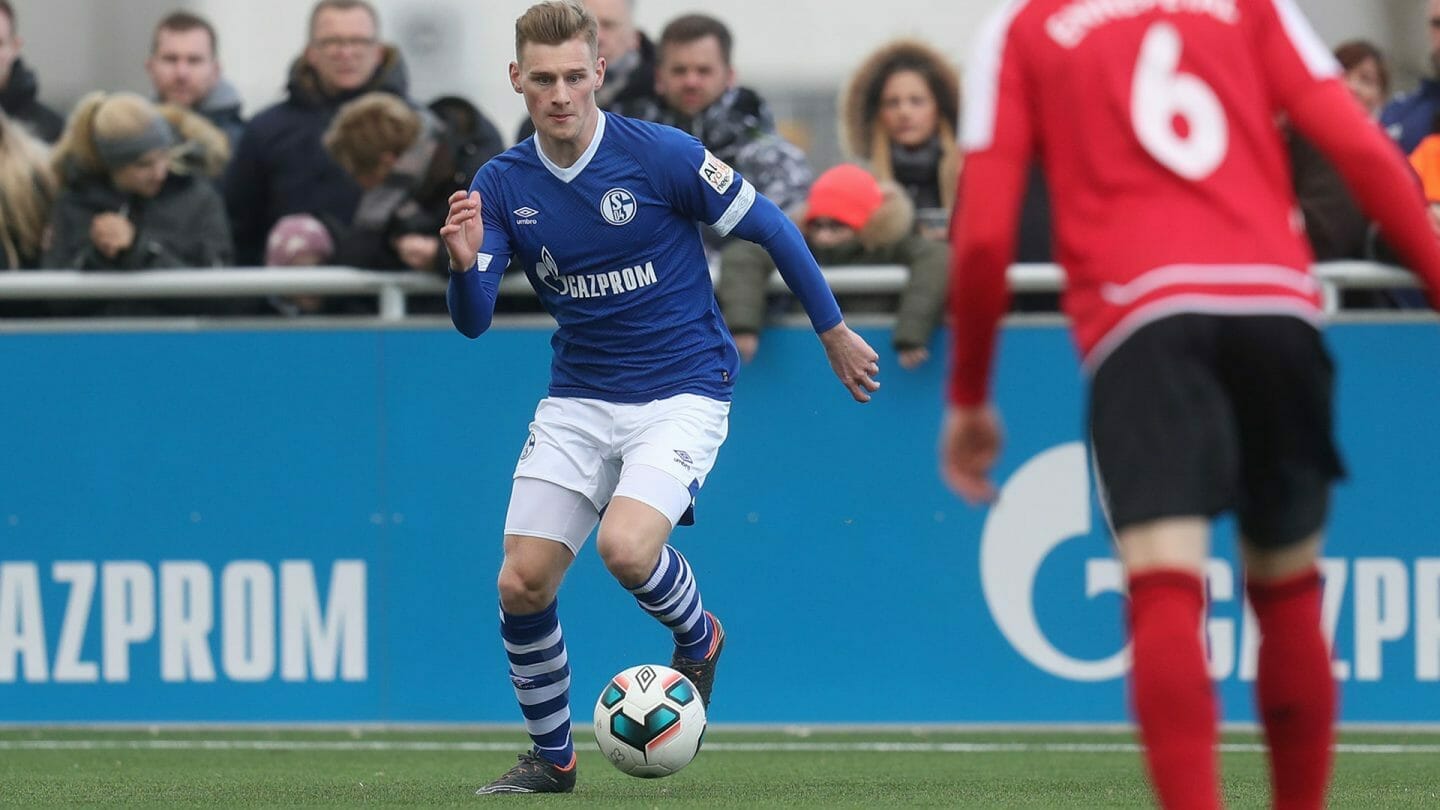 Can you remember playing against Schalke for Bayer Leverkusen?        
Yeah, definitely! Those were really tough games. There was a game that I really remember. It was a goal-fest that we eventually lost 6-5, with the winning goal coming in the last minute.
Why did you move from Leverkusen to Nürnberg?
After my time in the U19s, I didn't manage to get into the senior team. Due to the fact that Leverkusen had opted out of having an U23s team, I had to find something else. Nürnberg had a lot of interest in me and I chose them as my next step. At the start it wasn't so easy to settle in southern Germany but after a short while I found friends who I still am in good contact with.
What aims have you set out for the upcoming season?
I want to do my best everyday and make a name for myself in the squad. At the moment I'm trying to develop and the high standard in training is doing me good. I'm learning a lot from my new teammates.