Ahmed, you have enjoyed a very successful nine months in which you have made your Bundesliga, DFB-Pokal and Champions League debuts as well as scoring your first senior competitive goal and signing your first professional contract. Did you pinch yourself at all during your summer holiday to make sure it wasn't all a dream?
I did that on more than one occasion (laughs). I had to pinch myself a few times in the weeks and months before that too just to be certain that this definitely was reality. I am incredibly grateful for what has recently happened. I have been able to experience several great moments which I had dreamed about from a young age. It wasn't always a positive experience though. There were moments in which things didn't go as well for the team and for me but this will all help me as I continue to progress.
What was your personal highlight of last season?
Scoring against FC Bayern München in the Allianz Arena. The seconds after the goal were very emotional for me because you don't score a goal like that very often.
Last year, you played in seven different competitions. Was it a step back at all for you to occasionally play for the Schalke U19s or U23s after playing in the Bundesliga?
No certainly not. I simply want to play football. Consequently, I told the coaching team that I would happily play for the U19s or the U23s if I'm not likely to feature for the first team or only come off the bench for a few minutes. The rhythm of regular game time has helped me to continue to improve. As a result I was able to help the youth teams achieve success.
It was never easy to fully concentrate both on school and on football.
Alongside the start to your professional career, you have completed your "Abitur" (end of school qualifications). How tough was it to concentrate with school and football on your mind?
It was a tough period of time. I had to get up very early each morning to go to school which was followed by training. In between and afterwards I learnt a lot and this was on a daily basis. It was never easy to fully concentrate both on school and on football. Luckily, this period is behind me now.
Why was it important for you to complete school? Some people would've left school immediately after signing their first professional contract.
In football, you never know what can happen. You can suffer one nasty injury and that might be the end of your career. It becomes difficult if you don't have any school qualifications to fall back on. Now I have completed my Abitur and can fully concentrate on football.
Is it an advantage for you that new Royal Blues head coach David Wagner was also a striker?
That's a good question. You always say that you are born a striker (grins). So far it has been a lot of fun to work with him.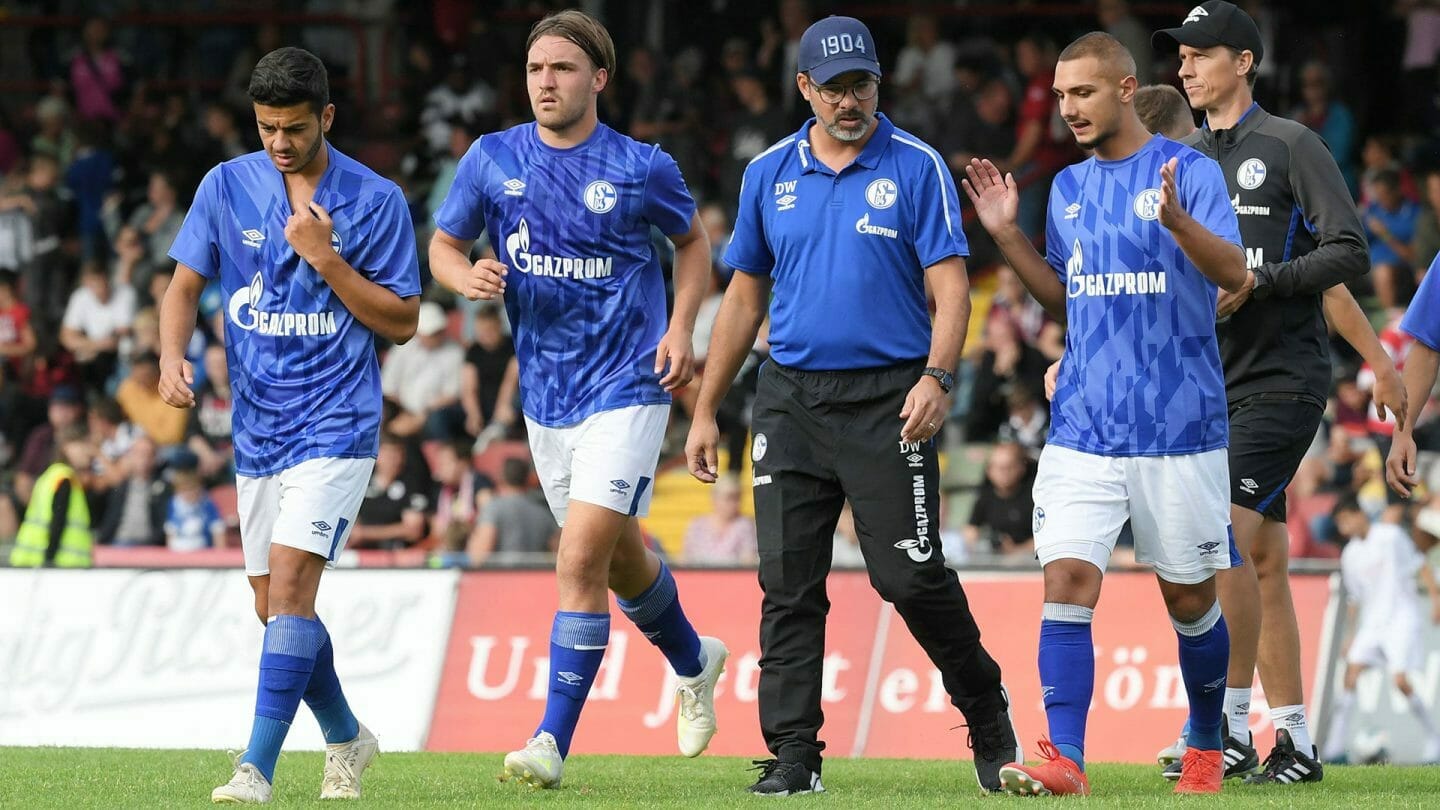 You weren't even born when David Wagner was playing for Schalke. Have you watched videos of his time as a player?
Not yet but I will soon. There'll be a few things on YouTube definitely. I really like watching videos of former players.
The first friendly in Oberhausen saw you score a brace. Was there a lot of praise from the coach about that?
No, but that is how it should be. After the final whistle he said to me that I played well. I know that the game went well for me. After six days of training it was our first test. I will continue to work hard so that I can carry on like that in the upcoming games.
I will continue to work hard.
A good friend of yours has joined the club in the form of Ozan Kabak. Did he ask you any questions before his move?
Yes, of course. He wanted to know what to expect if he chose Schalke. I only had positive things to say since I live and breathe our club – and I'm not just saying that. That's why I said to Ozan that my teammates and I would love it if he were a part of our team. I'm very hay that the transfer went through. Ozan is a really good defender who will definitely help our team.
Did you help Ozan to familiarise himself with his new environment?
Yeah definitely. He can understand a bit of German but not everything so I gave him some help and advice in terms of important words he could use. I also gave him a few tips, for example good restaurants that he could go to. I'm certain that Ozan will feel at home in Gelsenkirchen and Schalke.
---